In January 2002 the young Viennese exceptional guitarist René Galik joined "THE DOORS EXPERIENCE"

René is the youngest member in the band and is an extremely talented virtuoso. René is just about to finish his studies as jazz guitarist at the Vienna Conservatory of Music.

He picked up the guitar at the tender age of six, when he started taking classical guitar lessons. At 14 he played in his first group "Seasons".

But René is not just a jazz guitarist. He's also a fully fledged and versatile player in blues and rock. He reproduces the sound of Doors guitarist Robby Krieger perfectly.

René is the current guitar player of Bobbie Singer for Eurovision Song Contest fame and plays in jazz outfit Big Apple with Klaus.
In other groups and projects like "Vacuum", "Checkin' Out" and "Solar"(link www.solartune.at) René has played just about everything from jazz to latin, fusion, rock, funk, soul, metal and blues.
René is also part of the rhythm section of the All Time Swing Band.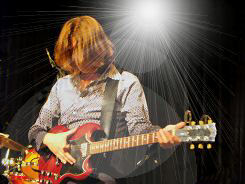 Foto: Tihana Resch