Born on September 15th 1980 in Mödling near Vienna. Jim Morrison has been dead for nine years then.
Via rock'n'roll (classic and later on contemporary rock) I came across the Doors' music, which took hold of me right from the very start.
I have played bass guitar in many a band, but since December 2002 I am member of a tribute band, that deserves its name:
"THE DOORS EXPERIENCE"
Profession: male nurse (should have picked up a career as a therapist either)
Credo: "Hey ho, let's go!" (The Ramones)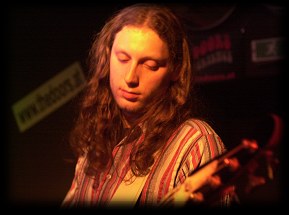 Foto Peter Bluma
HERMANN