Boogaloo club proved last Saturday that Jim Morrison's charisma and the songs he made with the Doors are not fading with time, but are getting a lasting cultural value from generation to generation.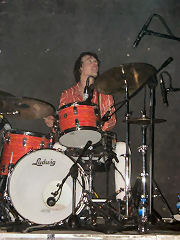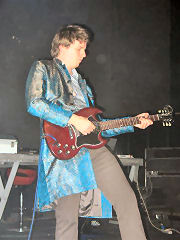 Like from all revival bands, we didn't expect a spectacular performance from The Doors Experience, We just expected them to present in the best way what one of the best and most influential bands of all time left behind.

In their 2 hour performance in the packed club, with mostly young generation fans, they showed everything expected from a band with their profile and more.
From Hello I Love You and People Are Strange, and during the entire concert it was visible that they were studying each and every detail of the Doorsí legendary concerts.
In instrumental expression they managed to create a mystic and psychedelic mood on stage, the most on songs: The End, When The Musicís Over and Riders On The Storm, in which i would like to mention guitar abilities of Rene Galik and the thrilling rhythm section.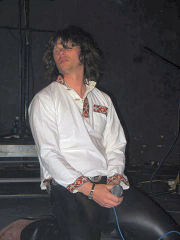 Without intention to to give less credits to other members of the band, the frontman Jason Jim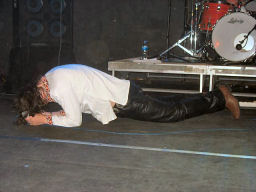 Boiler with his physical resemblance to Jim Morrison and with his vocal abilities is giving this revival group a serious (positive) sign with the audience and not a stadium of a pale replica. The scene performance (jumping, laying down, simulation of sexual intercourse on stage) because of which he had to change his shirts 3 times, well made to that which Jim Morrison was wearing on his concerts and album covers of the Doors, left nobody unmoved, especially the female part of the audience where you could even hear moaning.


The real eruption of thrill which can be characterized as the top of the evening with young fans were fast mega hits such as Break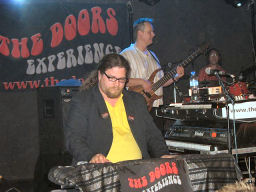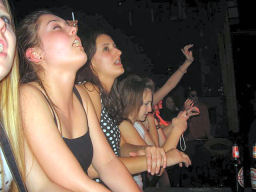 On Through, L. A. Woman and Roadhouse Blues, where you could notice that the young generation can appreciate the value and quality of music, no matter how old it is. With dancing and singing they were expressing their pleasure in all 21 song the band played that night, which resulted with double comeback on stage. As one of the encores they played Light My Fire, during which visibly thrilled keyboardist Klaus Bergmaier played extraordinarily.